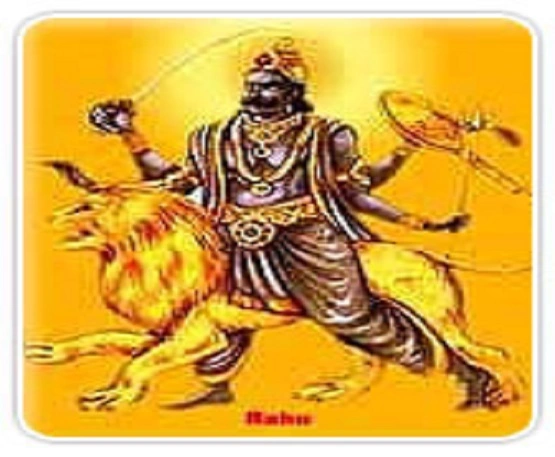 Online Rahu Dragon Head Pooja
Rahu (Dragon's Head) is malefic in the chart or horoscope; Online Rahu Dragon Head Pooja is done to negate the malefic effects of the Planet. Rahu / Dragon's Head Pooja protects a person from the Malefic effects of Rahu as per ancient Vedic texts. Rahu Pooja or Dragon head's worship is done facing south-west to enhance the spiritual process of involution. Rahu is a symbol of material manifestation and worldly desire that strengthens one's power to convert even an enemy into a friend.
The benefit of Rahu Dragons Head Pooja
To be an innovator and generator of new ideas
Acquire wealth, power, and fame
Attain good physical beauty
Gain positivity to fulfill your desires and ambitions
Getting rid of consequences from paternal karma
Getting over anxiety, frustration, suffering, and poverty
Possessing determination to get what you want out of your life
Finding victory over enmity and ignorance
Overcoming delays in marriage and problems in childbirth
Overcoming mental conditions of fear or suicidal tendencies
Recovering from infectious diseases like leprosy
Remove the malefic effects of Rahu-Ketu planetary Doshas from your life with ourOnline Rahu Dragon Head Pooja. The Rahu pooja and Ketu Pooja are conducted by our team of expert professionals readily available to serve your puja-related needs. Astroguruvani organizes special Rahu Pooja Benefits, Mantra, and Pooja Vidhi in eliminating the negative energy from your life. Our Puja and Anushthan Service Book Rahu Pooja by Learned and Reliable Vedic Pundits.
Lord Rahu (North Node) is the first shadow planet of the solar system. As the name suggests, it is not actually a planet but is the "node" that has a significant impact on all the beings, and hence it is included in the horoscope. It also gives its results based on its disposition in the chart. Rahu signifies illusion, mystery, secrets, desires, ambitions, aspirations, etc. It plays an important part in the life of an individual and hence should be carefully examined.
After theOnline Rahu Dragon Head Pooja, you will receive the holy ash and prasadam of the pooja via courier. You will also be getting an authentically energized Rahuyantra and Kavacha for removing the negativities from your life and for ensuring overall protection.