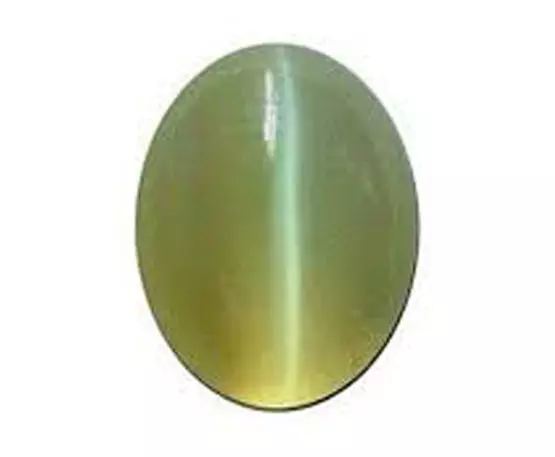 Cat's Eye / Lehsunia
According to Vedic astrology, Cat's Eye gemstones symbolize "KETU". It is known as Lehsunia or Vaiduria. The other names of this gem are Chrysoberyl, Cymophane Cat's Eye, Ketu-Ratna, Ketu's Gem and Sutra-Mani.
Rahu and Ketu are so attached to each other that they could not be talked about in different sentences. Ketu is almost another print of Rahu exploring different shades and in different confinements which could be seen in its icon Cat's Eye Gemstone or lehsunia on land.
Benefits of the Cat's Eye
It is a stone that is believed to bring in comforts to a person's life by bringing in wealth and better luck to the wearer.
Wearing a cat's eye gemstone as a talisman can give psychic protection and can guard the wearer against the effects of the evil eye.
It is a gemstone that is believed to help in healing from cancer.
Cat's eye stone acts a boon for a person who has problems with stabilizing their emotions and by wearing cat's eye they can enhance their senses and deal with the challenging situation.
Cat's eye stone helps one to strengthen their physical weakness and mental imbalances and helps to restore memory.
It guards the wearer against several serious diseases related to the heart, stomach, brain, and mind.
The Ketu dosha, which is known as one of the worst and longest remaining dosha (ill-effects) that last around 18 years will be soothed by wearing cat's eye stone.
Wearing cats eye gemstone will soothe the brain diseases and assists the wearer to overcome depression.
Disinterest in food or anorexia can be resolved by wearing this stone.
It saves the wearer from any kind of mishaps that are to be happening.