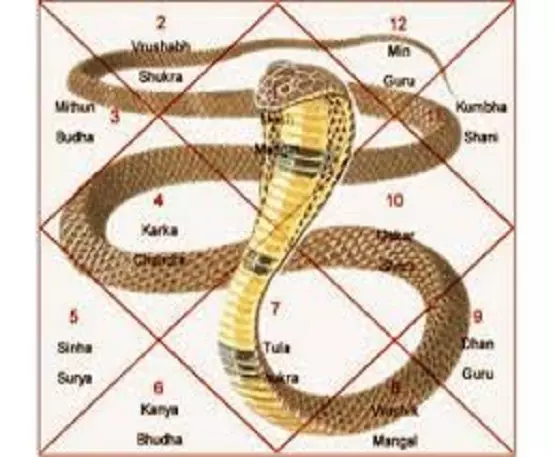 Kal Sarpa Dosh Nivaran Puja
The person who has Kalsarp Dosh in his horoscope will suffer from various problems in life. Hence KaalSarp Yog Puja or Kaalsarp Dosh Nivaran is regarded as a deadly yoga in Hindu astrology. Kaalsarp Yoga is formed when all the planets are hemmed between the Navagraha Planets Lord Rahu and Lord Ketu in one's horoscope.
kaal sarp yog nivaran is formed when in an horoscope, all the seven planets comes between or hemmed between rahu and ketu. Rahu is considered serpent's head and ketu is dragon's tail. So the presence of kaalsarp yog in an horoscope is considered particularly harmful as all the planets are surrounded by the serpent and thus loose their good impacts to a great extent which will make person less lucky, creates problems and delays in many important aspects of life.
Benefit of Kal Sarpa Dosh Nivaran Puja
Kaal Sarp Dosha is infamous for affecting one's marriage and putting it at risk. However, after the yog nivaran puja, its effects can be reversed and once the dosh is eradicated, one can lead a very happy and successful married-life.
Kaal sarp dosh puja is a highly beneficial one that can help alleviate the dire consequences of Kaal sarp dosh.
The benefits of kaal sarp dosh nivaran puja include sustainable flow and growth of finances in one's home. This will also impress Goddess Laxmi and may result in blessings from Goddess Laxmi which is said to be very good and positive for one's finances.
The benefit of kaal sarp yog that one may gain while this dosh sits in one's kundli is that the victim may see some positive development in his/her political career (if any).
One tends to face constant hurdles and many ups and downs in his/her life when the Kaal Sarp Yoga occurs in one's horoscope. Once the Dosh Nivaran Puja is done for the dosh, all the problems and obstacles will calm down and you will start seeing the right direction.
After a successful completion of the dosh nivaran puja for Kaal Sarp Yog, the immediate benefits include finding your dream job and overcoming that major academic obstacle that you have been facing throughout the dosh.