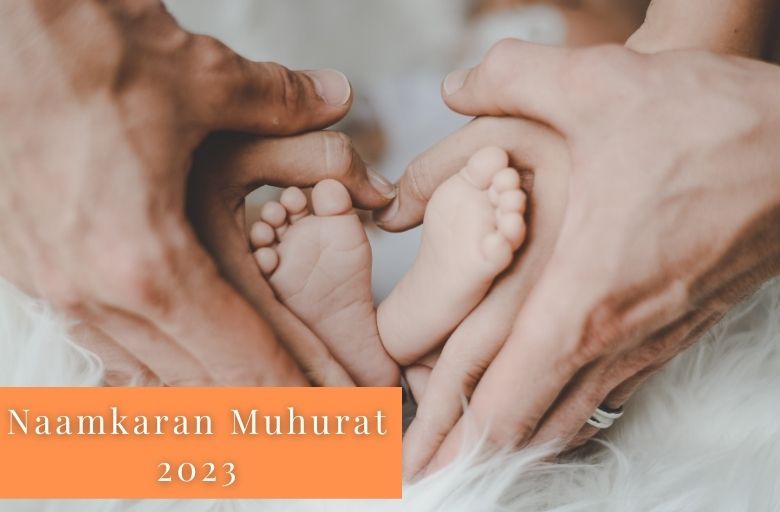 Naamkaran Muhurat 2023
Naamkaran Muhurat 2023- According to Hindu tradition, the name you choose for your child has a special energy that enables them to resonate with the right cosmic energy. This helps the child's whole development, both materialistically and spiritually. Hinduism requires a person to conduct several rituals beginning with their birth.
What is Naamkaran Muhurat? Naamkaran Muhurat 2023
The ceremonial occasion where a child is named and welcomed into the family. Traditional naming ceremony helps the child have good societal power when growing up. But for every ceremony being conducted, seeking the right muhurat is very important. This article provides all the details of the Naamkaran Shubh Muhurat 2023. If you need help with the right procedure for name keeping ceremony, approach an expert astrologer, and he will analyze your baby's horoscope and decide on the naming day celebration. If you are searching for Naamkaran Shubh Muhurat 2023, this article will help you to find the best Muhurat for your baby.
What is the real significance of Naamkaran Muhurat?
A child's name is their most important and first identification. It would help if you never overlooked such a crucial element. Any name you give your child will stay with them until the very end, regardless of what. According to Hindu texts, every name has a powerful energy that enables you to resonate with cosmic energy and experience overall progress in both the spiritual and material worlds.
When is the best time to perform Namkaran Sanskar?
The naming ceremony should be held ten days after the child's birth. In Sanskrit, it is called before the Sutika or Shudhikaran period, the duration when the mother and child are in postnatal care. This practice of Namkaran Sanskar is necessary for a baby's well-being; thus, it is said that a Namkaran Muhurat is extremely important. However, parents should consult with a pandit ji or astrologer to choose the perfect day for the naming ceremony.
What is the history behind Naamkaran?
According to Vedic tradition, your name holds some power or energy which resonates with the cosmic energy and helps you to be renowned in both the spiritual and physical worlds. Hinduism celebrates several ceremonies starting with their birth till their funeral ceremony. One of these significant rituals is the baby's naming ceremony or Naamkaran muhurat. A formal ceremony is done to announce the name of a child officially.
The custom of naming rituals aids in the child's future acquisition of positive social influence. Finding the ideal Auspicious Muhurat for each occasion is essential, though. This article will give you all the information about the dates and times of your child's naming ceremony in 2023.
Final words
You could consult an astrologer to decide the most advantageous time for the Namkaran ceremony. People frequently consult a specialist astrologer to identify the proper Naamkaran Shubh Muhurat 2023. The astrologer decides the lucky day and hour by using Panchang. Today's internet makes it very easy to get the correct auspicious muhurat online. Thanks to several websites and apps, obtaining the Muhurat for every auspicious event is feasible without getting in touch with an astrologer. But you'll need the help of professional astrologers to understand this ceremony fully.
Consult Pandit ji to get a Naamkaran Muhurat. First Call Consultancy is Free.
Namkaran Muhurats In January 2023
| | | |
| --- | --- | --- |
| Start time | End time | Nakshatra |
| Sun, Jan 1, 06:20 AM | Sun, Jan 1, 12:48 PM | Ashwini |
| Wed, Jan 4, 06:21 AM | Thu, Jan 5, 09:26 PM | Rohini |
| Sun, Jan 8, 06:22 AM | Mon, Jan 9, 06:05 AM | Pushya |
| Fri, Jan 13, 04:35 PM | Sat, Jan 14, 06:22 AM | Hasta |
| Wed, Jan 18, 06:22 AM | Wed, Jan 18, 05:22 PM | Anuradha |
| Sun, Jan 22, 06:22 AM | Tue, Jan 24, 12:26 AM | Uttara Ashadha |
| Wed, Jan 25, 08:05 PM | Sat, Jan 28, 06:20 AM | Uttara Bhadrapada |
| Mon, Jan 30, 10:15 PM | Tue, Jan 31, 06:19 AM | Rohini |
Namkaran Muhurats In February 2023
| | | |
| --- | --- | --- |
| Start time | End time | Nakshatra |
| Wed, Feb 1, 06:19 AM | Thu, Feb 2, 03:23 AM | Mrigashirsha |
| Sun, Feb 5, 06:17 AM | Sun, Feb 5, 12:13 PM | Pushya |
| Thu, Feb 9, 10:27 PM | Sat, Feb 11, 12:18 AM | Hasta |
| Tue, Feb 14, 02:35 AM | Tue, Feb 14, 06:13 AM | Anuradha |
| Fri, Feb 17, 08:28 PM | Sat, Feb 18, 06:10 AM | Uttara Ashadha |
| Sun, Feb 19, 06:09 AM | Mon, Feb 20, 11:46 AM | Shravana |
| Wed, Feb 22, 06:38 AM | Sat, Feb 25, 03:26 AM | Uttara Bhadrapada |
| Mon, Feb 27, 05:18 AM | Tue, Feb 28, 06:02 AM | Rohini |
Namkaran Muhurats In March 2023
| | | |
| --- | --- | --- |
| Start time | End time | Nakshatra |
| Wed, Mar 1, 06:02 AM | Wed, Mar 1, 09:52 AM | Mrigashirsha |
| Fri, Mar 3, 03:43 PM | Sat, Mar 4, 05:59 AM | Pushya |
| Thu, Mar 9, 04:20 AM | Fri, Mar 10, 05:57 AM | Hasta |
| Mon, Mar 13, 08:21 AM | Tue, Mar 14, 05:50 AM | Anuradha |
| Fri, Mar 17, 04:47 AM | Sat, Mar 18, 05:46 AM | Uttara Ashadha |
| Sun, Mar 19, 05:45 AM | Sun, Mar 19, 10:04 PM | Dhanishta |
| Wed, Mar 22, 05:42 AM | Fri, Mar 24, 01:22 PM | Uttara Bhadrapada |
| Sun, Mar 26, 02:01 PM | Tue, Mar 28, 05:37 AM | Rohini |
Namkaran Muhurats In April 2023
| | | |
| --- | --- | --- |
| Start time | End time | Nakshatra |
| Sat, Apr 1, 12:00 AM | Sat, Apr 1, 01:57 AM | Pushya |
| Wed, Apr 5, 11:23 AM | Thu, Apr 6, 12:41 PM | Hasta |
| Sun, Apr 9, 02:00 PM | Mon, Apr 10, 01:39 PM | Anuradha |
| Thu, Apr 13, 10:43 AM | Sat, Apr 15, 05:20 AM | Uttara Ashadha |
| Sun, Apr 16, 05:19 AM | Sun, Apr 16, 05:51 AM | Dhanishta |
| Tue, Apr 18, 02:28 AM | Tue, Apr 18, 05:18 AM | Uttara Bhadrapada |
| Wed, Apr 19, 05:17 AMM | Thu, Apr 20, 11:10 P | Revati |
| Sun, Apr 23, 05:14 AM | Tue, Apr 25, 02:07 AM | Rohini |
| Fri, Apr 28, 12:00 AM | Fri, Apr 28, 09:53 AM | Pushya |
Namkaran Muhurats In May 2023
| | | |
| --- | --- | --- |
| Start time | End time | Nakshatra |
| Wed, May 3, 05:07 AM | Wed, May 3, 08:56 PM | Hasta |
| Sun, May 7, 05:04 AM | Sun, May 7, 08:21 PM | Anuradha |
| Wed, May 10, 04:12 PM | Sat, May 13, 05:01 AM | Uttara Ashadha |
| Mon, May 15, 09:08 AM | Tue, May 16, 05:00 AM | Uttara Bhadrapada |
| Wed, May 17, 04:59 AM | Thu, May 18, 07:22 AM | Revati |
| Sun, May 21, 04:58 AM | Mon, May 22, 10:37 AM | Rohini |
| Wed, May 24, 03:06 PM | Thu, May 25, 03:06 PM | Pushya |
| Tue, May 30, 04:29 AM | Tue, May 30, 04:55 AM | Hasta |
| Wed, May 31, 04:55 AM | Wed, May 31, 06:00 AM | Hasta |
Namkaran Muhurats In June 2023
| | | |
| --- | --- | --- |
| Start time | End time | Nakshatra |
| Sun, Jun 4, 04:55 AM | Sun, Jun 4, 05:03 AM | Anuradha |
| Wed, Jun 7, 04:55 AM | Fri, Jun 9, 05:09 PM | Uttara Ashadha |
| Sun, Jun 11, 02:32 PM | Tue, Jun 13, 04:55 AM | Uttara Bhadrapada |
| Wed, Jun 14, 04:55 AM | Wed, Jun 14, 01:40 PM | Ashwini |
| Fri, Jun 16, 03:07 PM | Sat, Jun 17, 04:55 AM | Rohini |
| Sun, Jun 18, 04:56 AM | Sun, Jun 18, 06:06 PM | Mrigashirsha |
| Wed, Jun 21, 04:56 AM | Wed, Jun 21, 10:36 PM | Pushya |
| Mon, Jun 26, 12:44 PM | Tue, Jun 27, 04:58 AM | Hasta |
| Fri, Jun 30, 04:10 PM | Sat, Jul 1, 04:59 AM | Anuradha |
Namkaran Muhurats In July 2023
| | | |
| --- | --- | --- |
| Start time | End time | Nakshatra |
| Wed, Jul 5, 05:00 AM | Fri, Jul 7, 12:25 AM | Uttara Ashadha |
| Sun, Jul 9, 05:02 AM | Tue, Jul 11, 05:03 AM | Uttara Bhadrapada |
| Thu, Jul 13, 08:52 PM | Sat, Jul 15, 05:04 AM | Rohini |
| Wed, Jul 19, 05:06 AM | Wed, Jul 19, 07:58 AM | Pushya |
| Sun, Jul 23, 07:47 PM | Mon, Jul 24, 10:12 PM | Hasta |
| Fri, Jul 28, 01:28 AM | Sat, Jul 29, 12:55 AM | Anuradha |
| Mon, Jul 31, 06:58 PM | Tue, Aug 1, 05:11 AM | Uttara Ashadha |
Namkaran Muhurats In August 2023
| | | |
| --- | --- | --- |
| Start time | End time | Nakshatra |
| Wed, Aug 2, 05:12 AM | Thu, Aug 3, 09:56 AM | Shravana |
| Sat, Aug 5, 04:44 AM | Sat, Aug 5, 05:13 AM | Uttara Bhadrapada |
| Sun, Aug 6, 05:13 AM | Tue, Aug 8, 01:16 AM | Revati |
| Thu, Aug 10, 02:29 AM | Sat, Aug 12, 05:15 AM | Rohini |
| Mon, Aug 14, 11:07 AM | Tue, Aug 15, 05:17 AM | Pushya |
| Sun, Aug 20, 05:18 AM | Mon, Aug 21, 04:22 AM | Hasta |
| Thu, Aug 24, 09:04 AM | Fri, Aug 25, 09:14 AM | Anuradha |
| Mon, Aug 28, 05:15 AM | Tue, Aug 29, 05:21 AM | Uttara Ashadha |
| Wed, Aug 30, 05:22 AM | Wed, Aug 30, 08:46 PM | Dhanishta |
Namkaran Muhurats In September 2023
| | | |
| --- | --- | --- |
| Start time | End time | Nakshatra |
| Fri, Sep 1, 02:56 PM | Sat, Sep 2, 05:22 AM | Uttara Bhadrapada |
| Sun, Sep 3, 05:23 AM | Mon, Sep 4, 09:26 A | Revati |
| Wed, Sep 6, 09:20 AM | Fri, Sep 8, 12:09 PM | Rohini |
| Sun, Sep 10, 05:06 PM | Mon, Sep 11, 08:01 PM | Pushya |
| Sun, Sep 17, 05:27 AM | Sun, Sep 17, 10:02 AM | Hasta |
| Wed, Sep 20, 02:58 PM | Thu, Sep 21, 03:35 PM | Anuradha |
| Sun, Sep 24, 01:41 PM | Tue, Sep 26, 05:29 AM | Uttara Ashadha |
| Wed, Sep 27, 05:30 AM | Wed, Sep 27, 07:10 AM | Dhanishta |
| Fri, Sep 29, 01:48 AM | Sat, Sep 30, 05:31 AM | Uttara Bhadrapada |
Namkaran Muhurats In October 2023
| | | |
| --- | --- | --- |
| Start time | End time | Nakshatra |
| Sun, Oct 1, 05:31 AM | Sun, Oct 1, 07:27 PM | Ashwini |
| Wed, Oct 4, 05:32 AM | Thu, Oct 5, 07:40 PM | Rohini |
| Sun, Oct 8, 05:33 AM | Mon, Oct 9, 02:45 AM | Pushya |
| Fri, Oct 13, 02:11 PM | Sat, Oct 14, 05:36 AM | Hasta |
| Wed, Oct 18, 05:37 AM | Wed, Oct 18, 09:00 PM | Anuradha |
| Sun, Oct 22, 05:39 AM | Tue, Oct 24, 05:40 AM | Uttara Ashadha |
| Thu, Oct 26, 11:27 AM | Sat, Oct 28, 05:42 AM | Uttara Bhadrapada |
| Sun, Oct 29, 05:42 AM | Sun, Oct 29, 05:54 AM | Ashwini |
| Tue, Oct 31, 04:01 AM | Tue, Oct 31, 05:43 AM | Rohini |
Namkaran Muhurats In Novmber 2023
| | | |
| --- | --- | --- |
| Start time | End time | Nakshatra |
| Wed, Nov 1, 05:44 AM | Thu, Nov 2, 04:36 AM | Mrigashirsha |
| Sun, Nov 5, 05:46 AM | Sun, Nov 5, 10:29 AM | Pushya |
| Thu, Nov 9, 09:57 PM | Sat, Nov 11, 12:08 AM | Hasta |
| Tue, Nov 14, 03:23 AM | Tue, Nov 14, 05:52 AM | Anuradha |
| Sat, Nov 18, 01:17 AM | Sat, Nov 18, 05:54 AM | Uttara Ashadha |
| Sun, Nov 19, 05:55 AM | Mon, Nov 20, 09:26 PM | Shravana |
| Wed, Nov 22, 06:37 PM | Sat, Nov 25, 05:59 AM | Uttara Bhadrapada |
| Mon, Nov 27, 01:35 PM | Tue, Nov 28, 06:01 AM | Rohini |
| Wed, Nov 29, 06:02 AM | Wed, Nov 29, 01:59 PM | Mrigashirsha |
Namkaran Muhurats In December 2023
| | | |
| --- | --- | --- |
| Start time | End time | Nakshatra |
| Fri, Dec 1, 04:40 PM | Sat, Dec 2, 06:04 AM | Pushya |
| Thu, Dec 7, 06:28 AM | Fri, Dec 8, 08:54 AM | Hasta |
| Mon, Dec 11, 12:13 PM | Tue, Dec 12, 06:10 AM | Anuradha |
| Fri, Dec 15, 08:10 AM | Sat, Dec 16, 06:13 AM | Uttara Ashadha |
| Sun, Dec 17, 06:13 AM | Mon, Dec 18, 02:54 AM | Dhanishta |
| Wed, Dec 20, 06:15 AM | Fri, Dec 22, 09:36 PM | Uttara Bhadrapada |
| Sun, Dec 24, 09:19 PM | Tue, Dec 26, 06:18 AM | Rohini |
| Fri, Dec 29, 01:04 AM | Sat, Dec 30, 03:09 AM | Pushya |